Click on button above if you are using a mobile phone, otherwise phone 0800 fernleaf (0800 3376 5323) or 0210 275 3847 (Melvin)
The Fernleaf story is one of pioneer farming followed by selective breeding to develop stock with qualities valued by farmers.
Fernleaf farm is located 15 kilometres south of Taumarunui, with spectacular views of the mountains of the Central Plateau.
The farm is 400 metres above sea level and is a mixture of easy rolling and steep hill country.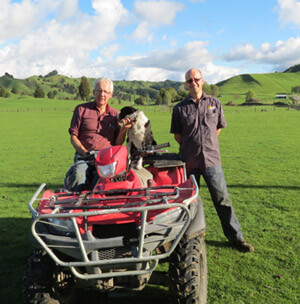 It all started with Houlton Forlong who moved from the Pihongia Valley to Owhango in 1924 and set about developing Fernleaf farm by clearing the land of the leftovers of the native bush that the sawmills had left in their wake. Houlton established Fernleaf's romney flock in 1934 by purchasing of 35 ewes and 7 ewe lambs. Since then we have expanded and now run 840 stud ewes at 16 stock units per hectare. We became a pioneer of performance recording 40 years ago, selecting for, starting off with 'Sheeplan' and then with 'SIL'.
National Agricultural Fieldays
For the past ten years we have been taking our sheep to the National Agricultural Fieldays at Mystery Creek each June.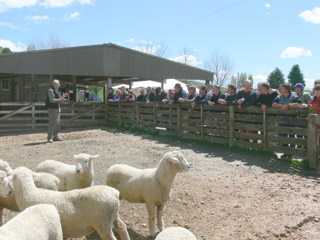 We have made many great contacts at the Fieldays and it is always good to catch up old friends and make new ones at this event. There is always huge interest in our sheep, in terms of both what we are doing with our sheep and the fact that we are one of the few breeding businesses who still take live sheep to this show.
Timeline:
1990    –        we began purchasing rams based on resistance to parasites.
2000    –        we started refugia and extending the intervals between drenches.
2006    –        we started intense selection for Worm Resistance to reduce drenching and dagging work. We did this by collecting faeces samples and having these tested for worm eggs.
Today
Melvin Forlong runs the farm on a day to day basis. Our speciality is that we breed special rams for hard hill country with improving resistance to worms and Facial Eczema, as well as reducing dags. And these are sheep our clients are pleased to own, to keep them in business.
---
Please do not hesitate to contact us for more information:
Telephone: 0800 fernleaf (0800 3376 5323) or Melvin on mobile 0210 275 3847
Address:
3285 Ohura Road, RD1, Ohura, 3995
Email Us: by using the simple email form below:
[fts_facebook type=page id=1012022999185521 posts=6 description=yes posts_displayed=page_only images_align=left]