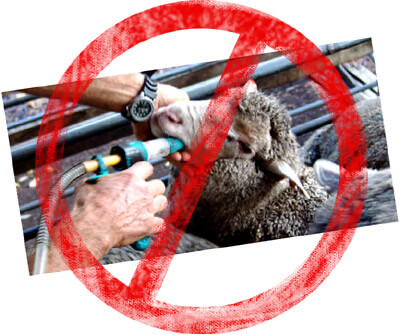 The Wormwise® programme is a national initiative by Beef + Lamb New Zealand to provide farmers, vets and rural retailers with information and services to manage internal parasites in sheep and beef.
Key points
At Fernleaf Rams we applaud the Wormwise revamp, and especially the two points below, taken from a paper reporting new initiatives at the July NZVA conference in Hamilton.
Point 1 – 'Animals can be selectively bred for resistance or resilience to round worms' With our breeding programme we aim for resistance because it deals with parasites. Also, it is simpler to breed for resistance and, in any case, who wants resilient sheep that tolerate worms by scouring and producing dags? More and more we find that our ram clients understand and welcome this approach. SIL recommends adding worms, dags and FE into the overall DPO index with all the other traits, to keep a balanced outcome. This is what 'Index Selection' is all about and we all agree it works. However, the mass of data on the SIL selection sheets doesn't get any easier for those meeting it for the first time. Meeting the challenge of interpreting this information will be one of Ian's priorities as it is vitally important. In the FERNLEAF flock there's enough genes for fertility for tough hill country, we want good wool and we also have enough genes for growth when the feed is turned on. The main priority for sheep farming today is to cut out the hard physical work of hauling big sheep around for dagging and drenching – or having to pay others to do the job – if they can be found. The younger generation can find easier ways to earn cash.
Point 2 – 'Breeding for a single trait leads to more rapid change than breeding for a combination of traits' This point needs to be cast in bronze! If a farm develops total drench resistance then who would buy it? The way things are going with livestock there is increasing drench resistance because of the overuse of it. You'd have to advertise the farm as being a great investment for pine trees or manuka honey. We wonder how many farmers have been game to do a FECRT test to see where they're at.
Sainsbury's concern over anthelmintics
There is clear evidence of consumers' concerns over chemicals in food and the UK's Sainsbury's supermarket chain is giving Feckpac (Dunedin) financial support to further develop their Faecal Egg Counting technology, aimed at reducing the widespread use of anthelmintics in both UK and New Zealand sheep meat. Their FECPAKG2 programme to increase the accuracy of FEC data so farmers can achieve more targeted use of anthelmintics and management strategies, and reduce the amount of drench being used to avoid inevitable drench resistance. This gives us enormous confidence that our FERNLEAF breeding programme is right on target to achieve these goals and we are leading the charge through genetics. Using FECs is a far more permanent and sustainable solution. So watch this space!
Recent FEC results
In July we got Faecal Consistency Scores (FCS) and sent away samples to get FECs done on our current crop of ram hoggets. We get our samples done through the Veterinary Pathology Lab, which does a special 'half dilution' count to increase accuracy for making selection decisions.
Here are the highlights:- 76% have never been drenched – not ever! 17% had Zero FEC 50% have below 100 epg Only 13 rams in the whole mob had over 500 epg. Only 4% had grade FCS 3 (plops). The rest were all FCS 1 (marbles) and FCS 2 (hand grenades). The other interesting statistic – which we were astounded at – was that, on average, the undrenched rams weighed 1.8 kg more than the drenched ones.